Deklaratë Publike - Stop ngacmimit seksual për/në vendin e punës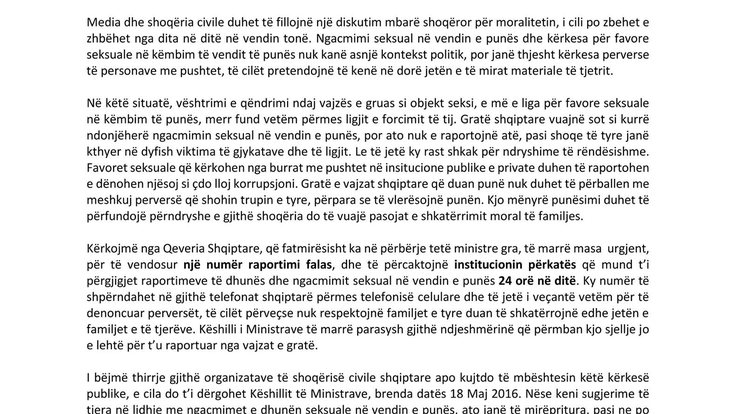 Aleanca Gjinore per Zhvillim ka ndjekur me shqetësim lajmet në median shqiptare në lidhje me kërkesën për favore seksuale ndaj një vajze që kërkonte punë nga ish kryetari i Bashkisë Dibër. Ju lutem gjeni perngjitur qendrimin tone dhe kerkesen drejtuar Keshillit te Ministrave per te perforcuar legjislacionin dhe institucionet pergjegjese per raportimin e rasteve te ngacmimeve seksuale ne vendin e punes.
I bëjmë thirrje gjithë organizatave të shoqërisë civile shqiptare apo kujtdo të mbështesin këtë kërkesë publike, e cila do t'i dërgohet Këshillit të Ministrave, brenda datës 18 Maj 2016. Nëse keni sugjerime të tjera në lidhje me ngacmimet e dhunën seksuale në vendin e punës, ato janë të mirëpritura, pasi ne po përgatisim propozime të përafruara me legjislacionin e Bashkimit Evropian në lidhje me këtë çështje.
Dërgoni mbështetjen tuaj dhe sugjerimet në adresën e e-mailit: gadc@gadc.org.al
Follow the link to read research and paper publications through the years.
GADC
Reports and Articles
Follow the link to read reports and articles through the years.
Donors
Full list